Leaflets

The leaflets below address the main issues Sovereign People are concerned about. They are available for everyone who wishes to use them to inform the Irish public about the realities our country faces.
Main Flyer - This is our main flyer at present and addresses our main concerns: private property rights, WHO pandemic treaty, neutrality, digital passports/currency, free speech and Sperrin gold mining/nuclear waste.
Cashless Society Flyer - A flyer concentrating on the issues surrounding a cashless society and subsequent social credit system.
WHO Flyer - A flyer concentrating on the issues surrounding the World Health Organisation, namely the global pandemic treaty and digital IDs.
Housing Leaflet - A leaflet concentrating on the proposed Right To Housing bill which is to be enabled through the 39th amendment to the constitution and will erode our property rights.
Link: Flyers / Leaflets Sovereign People
_____________

The June issue of THE PEOPLE'S PAPER is available.
Link: https://actioncovid1984.org/storage/leaflet/THE_PEOPLE_S_PAPER-34%20-%20A3%20.pdf
______________
Sarah Luzia Hassel-Reusing need testimonies of the vaxx victims for a criminal claim in The Hague. If you can support, please ask them to complete the attached and to send the scan back to me at trust-in-humanity@pm.me, subject line TESTIMONY. I need to collect the testimonies and to count them so we know when we got enough. I will submit to the defenders. Thank you
Link: Testimony document for fill
______________
Revoke the Electric Ireland Price Rise
The Electricity Supply Board, the EBS, is a state-owned electricity company operating in Ireland. With a holding of 95%, ESB is majority-owned by the Irish Government, with the remaining 5% held by the trustees of an Employee Share Ownership Plan.
Link https://www.change.org/p/revoke-the-electric-ireland-price-rise
______________
Free Enoch Burke, the teacher jailed after not using teen's "they" pronoun
Irish teacher Enoch Burke has been arrested and jailed after refusing to use a transgender student's preferred pronoun, "they", in the classroom.
______________
Why Are The Irish Media And Government
NOT Alerting The Public To This?
FDA Try To Hide Pfizer's Vaccine Data For 75 Years!
______________
Tracey O' Mahony, Barrister and Founder of ICHR
An Appeal for Dr Billy Ralph
Dr Billy Ralph is currently under investigation by the Medical Council as a result of views he expressed regarding Covid-19 and its treatments.
Please write to the Medical Council using the template below, to express your distain at this investigation.
Link to template letter: https://drive.google.com/drive/folders/1A6qsSUzGXtF6YS75KNHcCb1uaG3RHLLg
______________

We are supporting this campaign, focused on the issue of Informed Consent.
We objected when our own Government wanted to dictate medical treatments to us, we must do the same if the WHO tries to.
Leaflet link: https://actioncovid1984.org/storage/leaflet/treaty.jpg
Petition to say 'Yes to Irish Neutrality": https://chng.it/L46vvXp6 ->> Sign the Petition https://change.org
What can you do to oppose the treaty (more)...
___________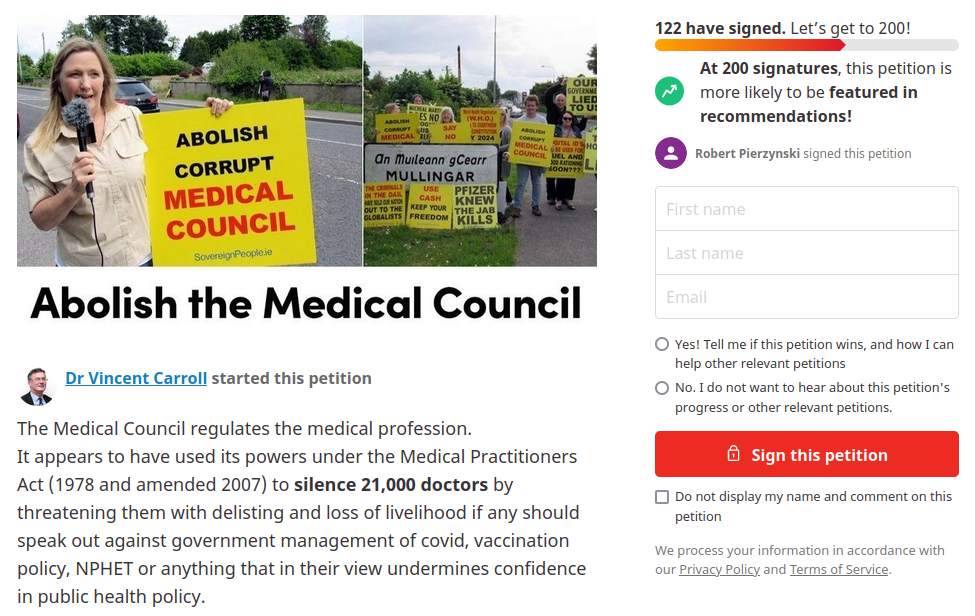 LINK: Sign this petition now to abolish the Medical Council